Girls Self-Esteem Conference
2017 Theme… Discover Your Inner Super Hero
Took place at
Long Beach Convention Center
on September 30, 2017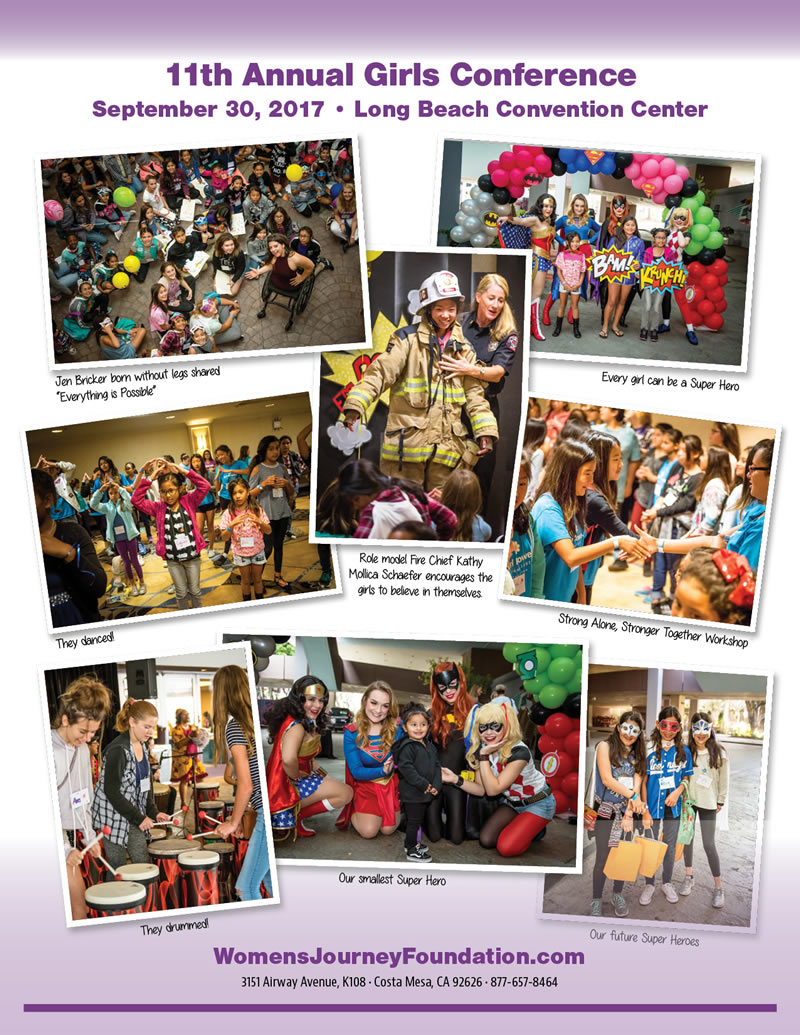 More About the Conference
The Women's Journey Foundation invests in our future generations by offering this very special, one of a kind annual event.  Since 2006, we have gathered girls from all socio-economic and cultural backgrounds and is funded entirely by donations.
We make a coordinated effort to include at-risk girls from various foster care and non-profit agencies such as, Girls Inc., Child's Pace, Boys and Girls Clubs, Orangewood Children's Home, CASA and more.
We invite guest speakers and female role models to address many of the issues young girls encounter from peer pressure to insecurity about their looks, school performance and relationships. Our programs are fun and very interactive, as well as very loving and accepting. This program enables girls to discover their talents and strengths, and recognize talents and strengths in each other.
What the girls had to say when asked, "What was the greatest thing I learned today?"
To believe in myself. Hunter H. Age 10
That I have the courage I never knew I had. Sarah W. Age 13
I'm amazing in many ways. Kasidy W. Age 12
Be yourself and women are as great as men. Nicole O. Age 10
To be myself and women are good at things too. Natalie G.  Age 11
That you should follow your dreams even when people tell you no. Cailyn. Age 9
That no matter what obstacles come in your path of life, if you have faith in yourself and enough determination, you can overcome anything. Alesha A. Age 16
People talk to us and listen. Janice C. Age 17
Was to not give up on myself and that it is possible for anyone to be something in life. Ingrid L. Age 17
To love myself no matter what. I also learned that everyone is special. Victoria F. Age 14
If I trust myself, I can do better at everything I do. Sierra H.
It takes confidence, desire and determination to achieve that which seems impossible. Rebecca F. Age 17
Why is the issue of Self-Esteem in young girls so important to us?
Statistics from National Association for Self-Esteem
90% of eating disorders are found in girls
75% of teenage girls felt 'depressed, guilty and shameful' after spending just three minutes leafing through a fashion magazine.
70% of girls ages 15 to 17 avoid normal daily activities such as attending school, going to the doctor, or even giving their opinion "due to feeling badly about one's looks.
While only 19% of teenage girls are "overweight," 67% think they "need to lose weight"
When and why do girls' self-esteem decline?
Among 5-12th grade girls, 59 percent in one survey were dissatisfied with their body shape.
Of girls in that same age group, 47 percent said they wanted to lose weight because of photos they saw in magazines.
Girls ages 8–12 are more worried about being teased and made fun of than they are about being attacked with a weapon or being kidnapped.
By age 15, girls are twice as likely as boys.
Starting in the preteen years, there is a shift in focus; for girls, their appearance and their changing bodies too often become an all consuming passion and barometer of worth. For an overwhelming majority of girls, self-esteem becomes too closely tied to how they look and their physical attributes; girls feel they can't measure up to unrealistic society standards.

Teenage girls react differently than boys to "stressors" in life, especially stress in their personal relationships—a tendency that accounts in part for the higher levels of depression in girls.

~ Anita Gurian, PhD
We know that negative body image can foster feelings of depression, hopelessness and anxiety. It will affect a girl's self-confidence, self-acceptance and self-worth.
Our passion is to help and inspire young girls to love who they are, build a positive body image and elevate their self-esteem and confidence, so they can live the life they deserve.