GirlsCon
HAPPENING ON
October 22, 2022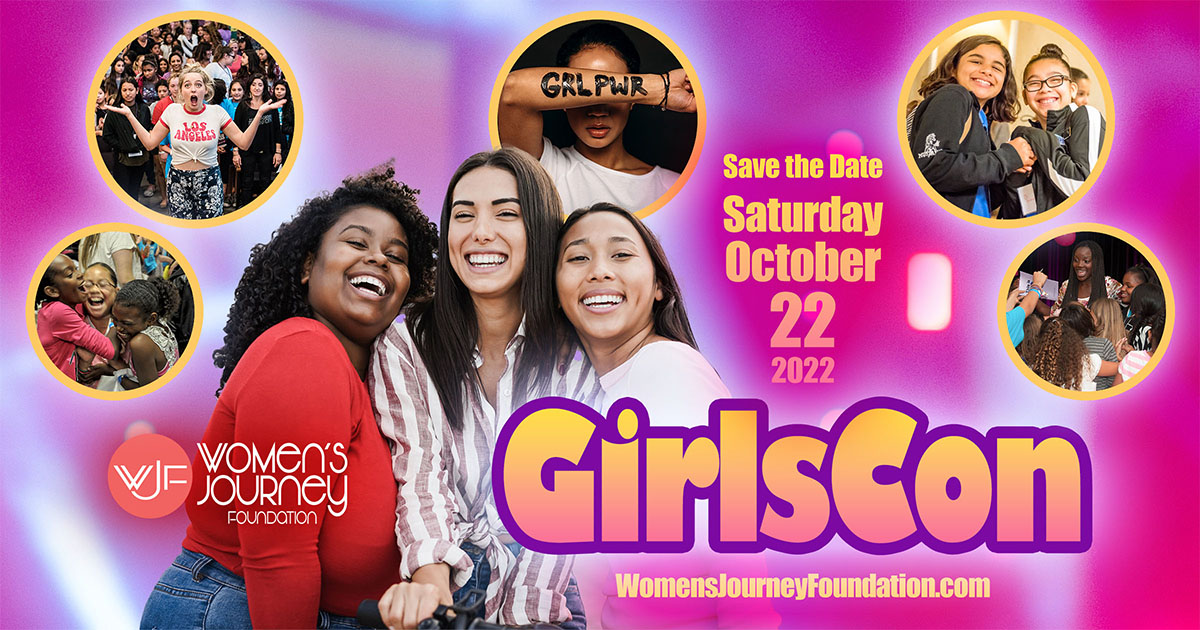 VOLUNTEERS… We Really Need YOU!
Just in case you missed the 2021 Girls I CAN Conference ~ True Colors you can watch the workshop videos below:
When girls are able to express themselves, hope is created because they have direction. Self esteem is improved because they see their value.
We encourage girls to Embrace Their Unique Differences.
Our girls programs include:
Stepping Into Your Full Positive Power
YOUniquly Embodied
Leader Lab
Self-Compassion
Dance
Yoga & Mindfulness
Stress Release
Being a Social Justice Kid
Candid Compliments
Social Media
Mirror Image
Finding Your Unique Treasure
Body Image
Self-Acceptance
This event is free to all girls and made possible by donations and sponsorships.
Send questions to: info@womensjourney.org
More About the Conference
We make a coordinated effort to work with girls from all socio-economic backgrounds including at-risk girls from over 35 foster care and non-profit agencies
Female role models are invited to address many of the issues young girls encounter from peer pressure to insecurity about their looks, school performance and relationships. Our programs are fun and interactive. This program enables girls to discover their talents and strengths.
Did you know?
Over 70% of girls suffer from low self-esteem
From 2007 to 2017 alone, suicide rates have doubled among teen girls
Why is the issue of Self-Esteem in young girls so important to us?
Statistics from National Association for Self-Esteem
90% of eating disorders are found in girls
75% of teenage girls felt 'depressed, guilty and shameful' after spending just three minutes leafing through a fashion magazine.
70% of girls ages 15 to 17 avoid normal daily activities such as attending school, going to the doctor, or even giving their opinion "due to feeling badly about one's looks.
While only 19% of teenage girls are "overweight," 67% think they "need to lose weight"
Since 2006 the Women's Journey Foundation has helped thousands of girls overcome feelings of inadequacy and self-doubt.
To believe in myself. Hunter H. Age 10
That I have the courage I never knew I had. Sarah W. Age 13
I'm amazing in many ways. Kasidy W. Age 12
Be yourself and women are as great as men. Nicole O. Age 10
To be myself and women are good at things too. Natalie G. Age 11
That you should follow your dreams even when people tell you no. Cailyn. Age 9
That no matter what obstacles come in your path of life, if you have faith in yourself and enough determination, you can overcome anything. Alesha A. Age 16
People talk to us and listen. Janice C. Age 17
Was to not give up on myself and that it is possible for anyone to be something in life. Ingrid L. Age 17
To love myself no matter what. I also learned that everyone is special. Victoria F. Age 14
If I trust myself, I can do better at everything I do. Sierra H.
It takes confidence, desire and determination to achieve that which seems impossible. Rebecca F. Age 17