One Inspirational Day
Two Amazing Conferences
A Day of Self-Discovery That Will Change Your Life!
For over a decade, our Women's and Girl's Self-Esteem Conferences has brought together women from all walks of life and girls 8-18. This multi-generational day combines  inspiration, entertainment, laughter and camaraderie.
Women's Conference
2017 brings a new look and new energy to our Women's Conference. Pop-up style combines music, art, storytelling and an interactive feast for the senses. PLUS…a few surprises that will blow your socks off!
General Admission Tickets:  $79.00 •  More Information
(VIP Tickets include Lunch, first in line for Meet & Greet with picture, Reserved Seating for lunch.)
Girls Self-Esteem Conference
SOLD OUT
Girl's 8-18 are invited for a day of fun and interactive experiences. Since 2006, thousands of girls have participated. We invite role models to share their stories of strength and perseverance to inspire and encourage them to believe in themselves.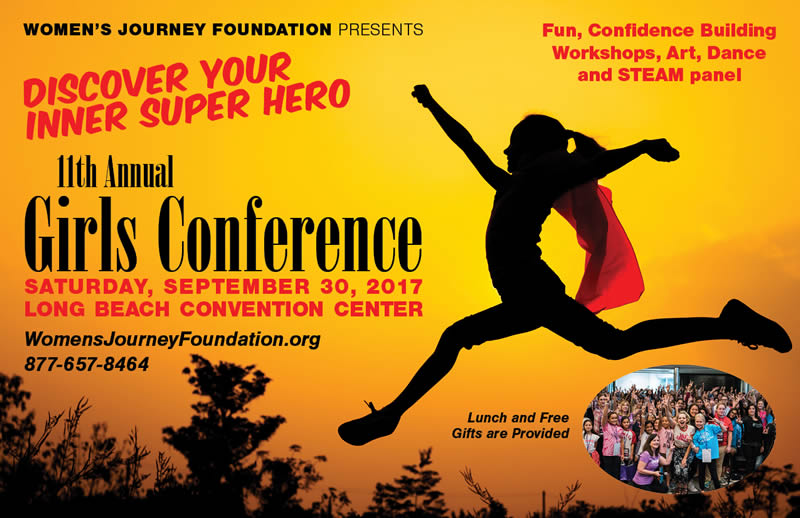 Conference Sponsors
MWE Entertainment
Premier
Mother's Market
Hay House
Center for Spiritual Living Newport-Mesa
Stonefire
OC Register
Exhibitors and Community Partners
Belafit
Cruise Planners
CSL Business Professionals
CSL Writers
DV Bleeding Heart
Harmony HB/ Scentsible Jewelry
Humble and Poe
Mary Kay Cosmetics
Planned Parenthood
Premier Designs Jewelery
Womens Journey Foundation
LuLaRoe
Womens Symposium of So Cal
Simply Real Foods Market
4Ever Young Living
Newport Pain & Wellness
NYL Insurance
27 Miles Malibu
Ms. Magazine/ Feminist Majority
Blue Stone Essentials
Soroptimist Long Beach